As always if you are interested in joining us for the Wednesday Hodgepodge, you can click the above pic and be directed to Joyce's blog. She has all the details and the questions for you.
1. What is something you are loving right now?
I am loving this pattern called Summit. I started it last night after needing something new. A pattern that I could get into and thankfully found that the pattern is much easier than it looks. A perfect knit for me right now.
2. Paris, Venice, New York, and Rome are considered four of the most romantic cities in the world. Which one would you most like to visit?
I have not been to any of these places but I've always wanted to go to Venice and ride in a gondola with my true love and kiss under the Bridge of Sighs. If you've ever seen the movie A Little Romance you know what I mean. 
3. Are you a romantic?
A hopeless silly romantic. It often gets me in trouble because I expect someone else to be that way and many are not. It can be hurtful. But I'm hopeless right? So that means I'm romantic no matter what others do, or don't do. 
4. What's your favorite love story made for the Big Screen?
Oh, I just mentioned it above, my all time favorite movie called A Little Romance with Diane Lane and Sir Laurence Olivier. The last scenes of the movie make me cry. I watch it when I'm happy or when I'm sad.
5. Everyone loves Pooh bear and friends…which character are you most like and why? Click here for help in answering this question.
I found a quiz and took it and it says: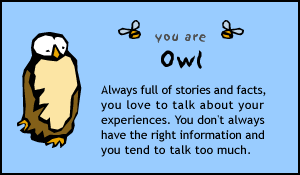 Take the 100 Acre Personality Quiz!
6. What's the best chocolate something you've ever eaten?
A milk chocolate peanut butter truffle from Lindt chocolates. They are to die for. 
7. Share a favorite quote about love.
Love is a verb. ~anonymous
I love this quote and it's how I feel, like my mantra. When you truly love something or someone it requires effort. If it's stagnant and you do nothing to show your love, that isn't love to me.
8. Insert your own random thought here.
I really enjoy this video podcast called

Craft Stash

. Kim is just adorable! Try it out. Click the link to check her out.